---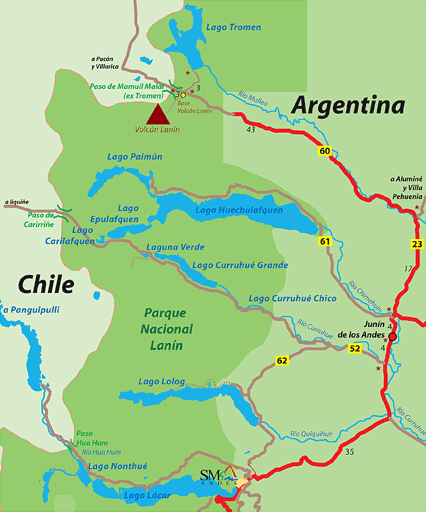 Among millenarian Araucaria trees you will see the Lanín volcano with its eternal snows. The Patagonian forest appears on the shores of Tromen Lake, with its beautiful beach ideal to relax and all the beauty of nature.

Duration: One day
Distance: 100 kms
Enabled: Summer, Autumn, Spring

walking with the potential for accessibility: Next to the Lanín Volcano there is a Visitors Center and adapted toilets.
Description tour: Tromen Lake and Lanín Volcano
Tromen Lake is located next to the Lanín Volcano, 100 kilometres far from San Martín de los Andes.
To reach the place you should take the National Road Nº 234 to the town of Junín de los Andes. After crossing the bridge over Chimehuín River you have to take the detour on the left along the Provincial Road Nº 23, which is paved until Malleo River (30 km).

Then, after crossing another bridge over this river, you will reach the Provincial Road Nº 60 which leads to Mamuil Malal International Pass.
During the journey you will be able to see a curious formation called "Bosque en Galería" (gallery forest), which is the concentration of Sauce mimbre species by the riverside, where the road goes along the lake.
When you reach the National Park, a pure forest of Araucaria trees will welcome you. On the left you will be able to see the Lanín Volcano's 3,776 metres high.
After five kilometres you will find the services area, the Park Ranger's House and the National Gendarmerie building. We suggest to visit the park's Visitors Center to understand better the landscape and the volcanic presence in the area. The Center has got a modern construction, excellent information boards and toilets for the disabled.
Tromen Lake
Approximately 200 meters before the Park Ranger's House on the right, there is the road that leads to Tromen Lake, which is hidden between the forest and mountains. A gentle descent of about a thousand metres leads to the lake, recognized as one of the best for sport fishing.
A wide sandy beach will be seen on the right. On the left you will find a picnic area, with campfires, tables and wild toilets.

Content manager
:
Secretaría de Turismo
Office
: Secretaría de Turismo - Av. San Martín y Juan Manuel de Rosas
Opening hours
: 7:00hs a 14:00hs
Phone
: 02972-425500

Back to:
Outdoors

Visit also:
Thermal Springs
,
Seven Lakes Area
,
Paso Córdoba Area
,
Lolog Area
,
Central and Vegas Areas
,
Lácar Area