---

Ricardo Druck
Santiago Gaudio
This pass connects the Chilean cities of Peulla, Puerto Varas and Puerto Montt with Lake Frías in Argentina, 58 kilometers (36 mi) from Bariloche.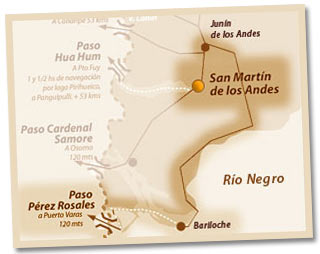 You can drive to this pass on international route CH-225 (paved) and then cruise Todos Los Santos Lake.
The border is 120 kilometers (74 mi) from Puerto Varas.
This road runs through a spectacular landscape of lakes, forests, volcanoes and fast-flowing meltwater rivers, connecting National Parks Vicente Pérez Rosales (in Chile) and Nahuel Huapi (in Argentina).
Once on the Argentine side you cruise Lake Nahuel Huapi to get to the city of San Carlos de Bariloche, and then drive 80 kilometers (50 mi) on national route RN231 to Villa La Angostura, You can get to San Martín de los Andes driving another 110 kilometers (68 mi) on national route RN234, section known as The Seven Lakes Road.
The pass is open in spring, summer and fall from 9am to 8pm.

Content manager
:
Secretaría de Turismo
Office
: Secretaría de Turismo - Av. San Martín y Juan Manuel de Rosas
Opening hours
: 7:00hs a 14:00hs
Phone
: 02972-425500

Back to:
Getting Here

Visit also:
Access Roads
,
Ground Transportation
,
Taxis (and Remises)
,
Immigration and Customs
,
Lake transportation
,
Car Rental
,
Flights
,
Road conditions DPV