---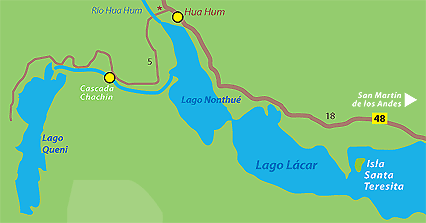 One of the most impressive waterfalls of Lanín National Park, where you will have access through an interesting interpretive trail, it is located in the Valdivian rainforest.
Duration: One day
Distance: 60 kms
Enabled: Summer, Autumn, Spring
Description tour: Chachín Cascade - Hua Hum
Access
Chachín cascade is located 60 kilometres from the city. You reach the place by the Provincial Road Nº 48 that leads to Hua Hum International Pass. From the bridge that goes over Hua Hum River you have to travel 6 more km, until the starting point of the pedestrian trail that leads to the waterfall.
Located in the area leading to Pucará and Queñi Lakes, it is one of the highest waterfalls in the region, due to the waters of the river located above the cascade, that come down in a 30 metre fall.
In this area the rainfall exceeds 4,000 mm. per year, the vegetation is abundant and rich in species, forming the so-called Valdivian rainforest.
A modern interpretation trail leads and informs the visitors through informative boards explaining the vegetation species of the area, its dynamic development and environmental conditions.
After half an hour walking upwards, you will arrive to a privileged viewpoint from where you can enjoy the spectacle offered by the waterfall between the vegetation.

Content manager
:
Secretaría de Turismo
Office
: Secretaría de Turismo - Av. San Martín y Juan Manuel de Rosas
Opening hours
: 7:00hs a 14:00hs
Phone
: 02972-425500

Back to:
Outdoors

Visit also:
Thermal Springs
,
Seven Lakes Area
,
Paso Córdoba Area
,
Lanín - Tromen Area
,
Lolog Area
,
Central and Vegas Areas