---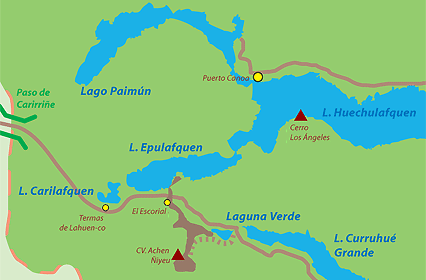 Huechulafquen and Epulafquen Lakes offer visitors an amazing circuit in one of the most impressive areas of the National Park. Lanín volcano and El Escorial, a solidified lava river that flows into the lake, will be your best company along the excursion.
Duration: One day
Distance: 95 kms
Enabled: Summer, Autumn, Spring
Description tour: Huechulafquen Lake Excursion
The excursion departs daily during summer, from the pier located in the area of Puerto Canoa, in Lanín National Park, which is located 110 kilometres far from San Martín de los Andes.
To get there you should take the National Road Nº 234 to the nearby town of Junín de los Andes.
Going past this town, five kilometres further before crossing the bridge over Chimehuin River, you will see on the left the Provincial Road Nº 61, which leads to Huechulafquen Lake.

After 24 kilometres you will find Chimehuin River and the entrance to the Park, with an exceptional view of Huechulafquen Lake and the Lanín Volcano.
You should still travel approximetely the same distance to reach the first Park Ranger's House (Las Coloradas), in the forest of Coihue trees. From here on, the road narrows and goes past some camping areas and settlements of people of the Mapuche community, and after 12 kilometers you will reach Puerto Canoa.
Puerto Canoa

You will find the Park Ranger's House, from where it starts the path that leads to the shelter of the Southern side of the Lanín volcano. Five hundred metres on the left you will see the services area, the pier from where the lake excursions start, a beach, a picnic area and the natural interpretation trail "El Bosque".
Catamarán José Julián

Consultas y reservas al Whatsapp +5492944317402
info@catamaranjosejulian.com.ar
www.catamaranjosejulian.com.ar
Vientos de Agua

contacto +5492944580180/ +5492944580180
Navigating the Patagonian waters

The lake trip lasts approximately one hour and a half. The ship goes along the waters of Huechulafquen Lake and the Lanín Volcano dominates the scene and offers a fantastic view of its magnificence.
You will see the forest on the slopes of the mountains, while the ship goes towards Epulafquen Lake until "El Escorial," a river of solidified lava, formed thanks to the recent eruption (400 years ago) of Achen Niyeu Volcano.
The landscape is wonderful, you will enjoy the black volcanic rock among the forest until it widens out and flows into the lake, offering the striking presence of volcanism.




Content manager
:
Secretaría de Turismo
Office
: Secretaría de Turismo - Av. San Martín y Juan Manuel de Rosas
Opening hours
: 7:00hs a 14:00hs
Phone
: 02972-425500

Back to:
Outdoors

Visit also:
Thermal Springs
,
Seven Lakes Area
,
Paso Córdoba Area
,
Lolog Area
,
Central and Vegas Areas
,
Lácar Area